Pornstar Database, Index, List & Directory Sites
Back to home
I want to search and find the XXX biography about my favorite pornstars in detail, PornGeek!
Then you're a man after my own heart. Most casual porno viewers are happy just to browse the tube sites, whack off, and get on with their day. But you and I see things differently. We care about the details and the story behind the porn. Knowledge is power, after all, and I can't think of a better thing to spend my time learning that the ins and outs of all of my favorite fuck-sluts.
Alternatively, these sites can be useful even if it's not essential to your life to learn every last bit of information about a porn star. Instead of dedicating an entire afternoon to learning every detail about Mia Khalifa, you just want to spend a few minutes finding another scene that she's in. That's not my cup of tea, but I won't judge you (much) for not being as much of a connoisseur as I am.
What kind of "XXX" information can I find in these pornstar databases?
Think Wikipedia, but for porn. As needlessly exhaustive and detailed as a Wikipedia article about some topic that normies find important is, these databases will double that in both quantity and quality. Choose just about any female who has ever been filmed or photographed naked. I assure you'll find her height, weight, bra-size, hair color, and any other detail about her body. Usually, only the most obsessive fans (like yours truly) would be able to find this. Sure, for your average, everyday person, this information is totally extraneous, but we're better than that. I know that you and I both need to know the waist size of every girl we jerk off to, so these sites fill in that void with this valuable service.
On top of that, most of them have filmographies of porn stars and cast listings for each film. Just like Wikipedia has filmographies of "traditional" actors and cast listings of "traditional" movies. So instead of going to check which Oscar-winning films George Clooney has been in, you can look up the entire cast of Butt Sluts 2. That's far more important if you ask me.
A lot of them will ever link to both free scenes on tube sites, as well as premium sites where you can pay for the full version if your heart (or cock) so desires. This makes them an excellent reference for you to broaden your knowledge after you're done jerking off. Not to forget, that's also a perfect jumping-off point to start a masturbation session. They're hugely versatile.
What are the best pornstar databases, index, list, and directory sites in 2019?
There's no single best pornstar database for any purpose. It depends on what type of porn you like, as well as what kind of experience you're looking for. For a straightforward, just the facts, detailed presentation of raw information about specific girls, I'd recommend the following sites. Boobpedia, Babepedia, and My Pornstar Book for porn stars and celebrities alike. JAV Library, which has the same sort of information, but focuses on Japanese adult video. And Shemale Star DB, which again covers the same ground, but only has information on women with cocks, not that there's anything wrong with that.
If you'd rather focus on films themselves, you're probably better off checking out IAFD, Adult Film Database, or Adult DVD Talk. Rather than profiles of the women involved in the films, these are centered on the porn itself. It's a different approach, although both usually end with me blowing a load, so really, it's just a matter of preference which you prefer.
Or, if you're hoping to delve into porn databases to broaden your knowledge, you might want to give Define Fetish a look. It has all of the same information about pornstars and movies I already discussed, but it combines that with a lot of useful information about the BDSM and fetish scene itself. Both newcomers to kink and experienced slaves can learn a thing or two from Define Fetish, which, according to mommy, is where I should be going with my life. I think she had college in mind, but that's not happening, so she'll have to settle for me learning about cock and ball torture instead.
Who's your favorite female pornstar, PornGeek?
It's impossible for somebody who knows so many different pornstars to narrow it down to just one. You amateurs might be able to, but I eat, sleep, and breathe porn. To say that one girl is my favorite is not only difficult, but it's also an insult to the many lovely ladies that work in this industry.
But, if I have to, I can try to limit my favorites to a few. If I'm in the mood to fall in love, I prefer Riley Reid. Her infectious slutty personality and girl-next-door looks make her my go-to-girl. This is when I'm looking not only to jerk off until I pass out but catch feelings for a pretty lady that would never actually give me the time of day.
If I just need to get down to business for a quick fap, I'll jump straight to Lana Rhoades. She may not be ideal relationship material, but her body can't be beaten—and really, isn't that what matters most in a woman? She's got big tits, a fat ass, and a throat that could swallow my arm whole—the perfect combination.
But I have to say if I'm absolutely forced to pick a single porn star, that my favorite would have to be Sasha Grey. For me, it comes down to realism—I've seen Sasha Grey do some incredibly nasty, disgusting, and sexy things. I've seen her fuck ten guys in a row, one after the other. I've seen her lick the underside of a toilet seat. I imagine that, if she was ever given the chance, she's the porn star to stoop so low to take my dick in and around her mouth, pussy, and ass. And if even she has standards too high for that, at least she would consider it for longer than most would.
Is it possible to get in contact with pornstars and have sex with them?
Theoretically, yes. I've spent hours (ok, more like years) trying to track down the contact information of various pornstars. I've tweeted at them, emailed them, and even sent them letters, complete with printed pictures of my totally average three-inch cock. As of yet, I haven't got a response.
Maybe you'll have better luck. I'm sure most of my readers aren't quite as studly as I am, but if you're more like ThePornDude and less like me, it's worth a try. I'm sure pornstars get bombarded with requests to fuck so often that they just didn't pay attention to mine, but who could resist ThePornDude? I know I couldn't.
(And if you're reading this, PornDude, that's just a joke. I totally don't want to have sex with you, or suck your cock, or be your butt slave for the rest of my life. Unless…?)
PornGeek, I'm these pornstars' biggest fan! I want to give these lucky girls my virginity!
Shoot your shot! Follow my lead. Research them exhaustively using these databases, find out their likes and dislikes, and tailor your attempts using everything you know about them. What's the worst that could happen?
In my experience, the answer to that question is multiple restraining orders and notices that any further attempts and contact will lead to jail time. But I think that's just them playing hard to get. I know the games you play, girls, and I won't give up just yet.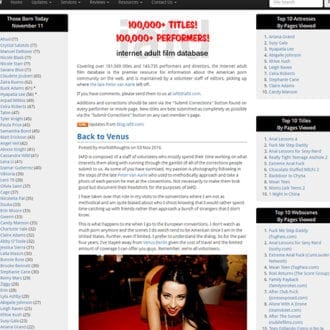 IAFD.com is the internet's ever-growing database of cinematic porn information on performers, media and production companies. They document everything and anything porn related and carefully curate and organize the information, for ease of access for any free, public purposes.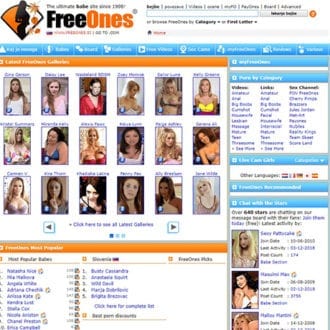 FreeOnes.com is an enormous and comprehensive porn star and babe database, making it easier than ever for you to keep track of your favorite girls (or find some new babes to become acquainted with). But it is so much more than that. In addition to an index of almost every porn star to ever appear on film, you can also watch free porn right on the site, and so much more. Read my review to find out all there is to do on Free Ones!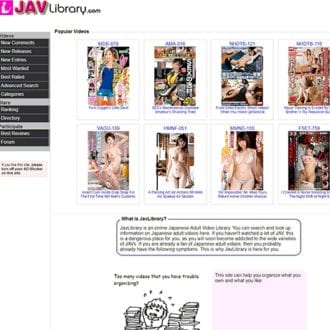 Beat off at the library! JavLibrary.com is a massive free and searchable index of Japanese Adult Videos. Look up your favorite films by actress, title, or category. Make lists so you can keep track of what you've seen, what you own, and what you want to see next. Oh, and download all these Asian pornos for free! Leave reviews, interact, and share!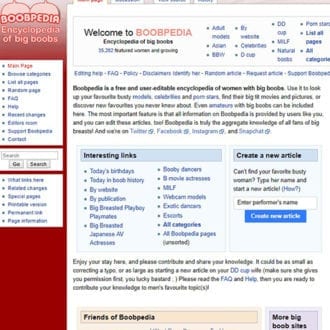 AdultDVDTalk.com is not your everyday porn site. You probably won't get much fapping on this site directly, but it will definitely point your wiener in the right direction! With an enormous index of adult movies, porn stars, and tons of interactive/community features, you'll never get bored! Plus, you might even be able to chat with your favorite porn star … read my review to learn more!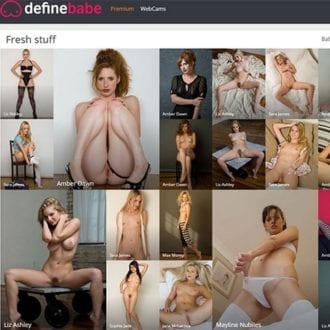 DefineBabe.com is all about pornstars and has a great collection of tasty galleries and videos covering thousands of world-renowned pornstars. The collection is available for free, and galleries come in high quality. The site has a cool design that offers reliable sorting options, and users can appreciate the diversity in the categories. New content is regularly added, and anyone looking for the best and nastiest of professional pornstars will find this site a great resource.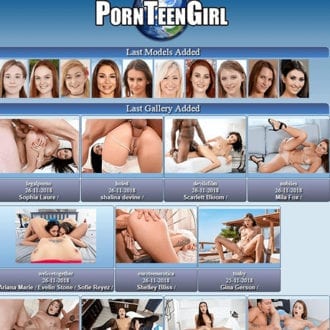 PornTeenGirl.com is one of those sites that sounds exactly like what it is. It is a database of teen girls in porn! In other words, an index of the hottest teen porn stars (and up-and-cummers). Browse beautiful teen porn stars to your heart's content on this site. Or find your new favorite … who knows? Read my review of Porn Teen Girl to learn more!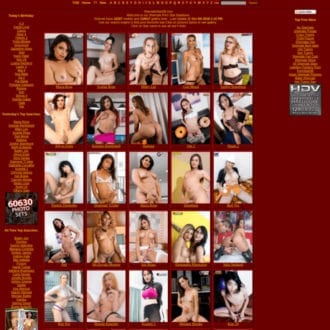 ShemaleStarDB.com is like a Wikipedia for girls with dicks, except instead of reading through boring text you get to navigate by clicking on hot shemales.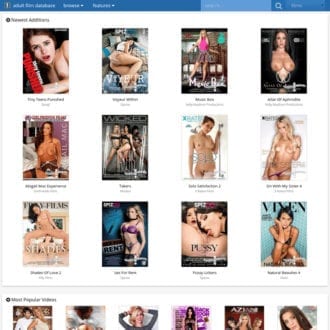 AdultFilmDatabase.com is a place to get plenty of information regarding adult actors, directors, and studios. The site has links to thousands of naughty fuck flicks and detailed profiles of thousands of pornstars with links to their galleries and movies. There are plenty of sorting options with the site lining up adult performers of all orientations. Users also have thousands of naughty galleries to browse. It is the ultimate free pornstar directory.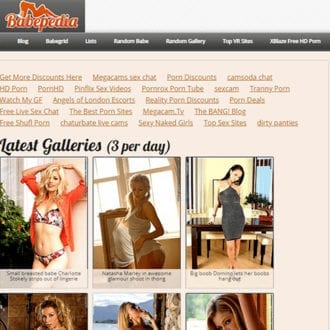 Babepedia.com, given the site's name, seems to want to imply that they are the Wikipedia of porn stars and babes. Is this true, though? Is Babepedia the best porn star index site out there on the web, or is it something you're better off skipping and saving yourself some extra time to spend fapping? Read my review of Babepedia to find out!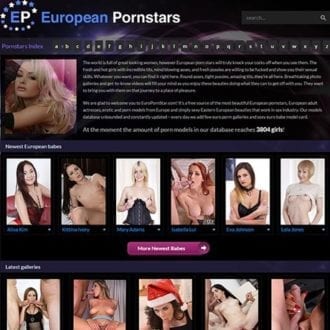 EuroPornstar.com is a porn site that you'll enjoy if you have a thing for European babes. It's free, it has a limitless repository of content and models to check out, and it's one click away. There are so many models on here and you can read up everything about them as well. When you're done with that you can move on to the actual photo sets that EuroPornstar.com offers for free!
BabesAndStars.com is a fucktastic pornstar database with info about thousands of pornstars. Detailed model pages are accompanied by their list of sample scenes, full DVDs, and a bunch of X-rated pictures. The site has a sleek and refined user interface that's easy to use and doesn't bother users with ads. New content is added regularly, and fantastic search options have also been availed. The site is free to use and should provide a quality browsing experience.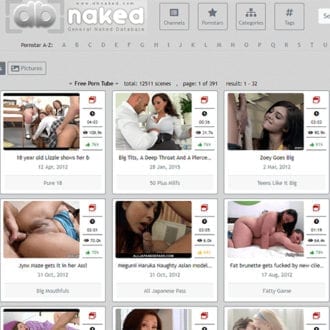 dbNaked.com is a free porn tube site with thousands upon thousands of free videos and photos that you can check out. You don't even need an account for this place. All you have to do is check it out and everything on the site is yours to explore and consume. Check out dbNaked.com and see what it has in store for you as far as porn videos and photos are concerned.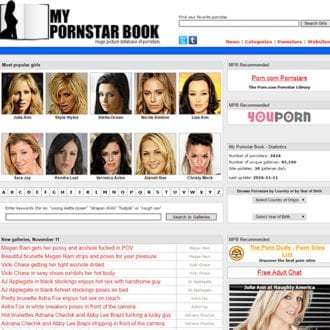 MyPornstarBook.net is an amazing website where you will be able to find basic info and mouthwatering galleries of all of your favorite pornstars. There are thousands of performers and clean galleries to pick from, all presented in a simple and easy to use site. New galleries are added daily while the collection can be browsed by categories among other useful browsing tools. Know everything about your favorite pornstar in their detailed individual profiles and you are sure to find something to stir your pot.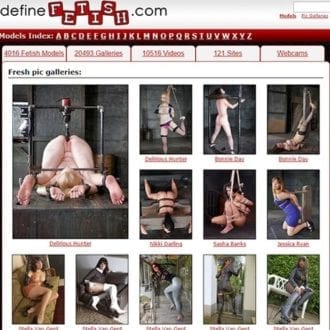 DefineFetish.com is a great place for burgeoning fetishists and the most advanced kinksters alike. If you are just starting out on your kink journey, Define Fetish will give you the tools to learn more about all the different kinks, as well as the ability to explore and see what you're into. And if you're already versed in the fetish world, Define Fetish has plenty worth fapping to! Read my review to learn more!