I want to watch free gay sex videos with young twinks, hairy bears and straight men gone homosexual!
I'm glad you're finally admitting it, to yourself and to me. It's important to be honest about your sexuality—I know it's difficult sometimes, but that's societies problem, not yours.
I'm totally straight, mind you, but I'm not so homophobic that I can't help my gay brothers find good porn. That's what I do best in life, after all, and the Supreme Court has decided that businesses aren't allowed to discriminate based on sexuality, so I went ahead and checked out every gay porn site I could find. Not because I enjoy it—because I love to help, and because I'm legally obligated to help.
Oh, wait. That's not how they ruled? Shit, that's going to blow my cover…
Ahem. Moving on. These gay porn sites will have everything you're looking for, covering every single gay stereotype, body type, and trope, including that holy grail fantasy of every gay guy—convincing a straight guy to go gay.
While the trope of a gay woman being fucked straight exists almost entirely in the mind of the straight male masturbator, straight guys going gay is actually more realistic than you might think. Gay porn pays better than straight, so a lot of these guys are only fucking butts for the paycheck. Even if the video isn't outwardly themed as "gone gay," chances are the man whose dick can't quite stay hard when wrapped up in a hairy hole isn't exactly enjoying the encounter as much as he's pretending to. So, if you get off on people having sexually traumatizing experiences as I do, gay porn will be able to provide that for you in spades.
What kind of (HD) (full-length) gay sex movies can I find on ThePornGeek's gay porn list?
Don't be stupid—would you ask me what kind of straight porn you can find? Gays aren't an alien species, so this question is just as pointless. Unless you'd like me to list every type of porn ever created, and add the word "gay" on to the start, then I won't be able to tell you all the kinds of gay porn I can show you. Yes, there is gay oral, and gay-anal, and gay BDSM porn—anything straight people can do, gay people can do too. Unless it involves vaginas or a trip to the Middle East.
And, on top of that, there are subgenres of gay porn that go beyond the straight world! Through my years of totally objective and disinterested research into this world, I've discovered that their bodies categorize gay men in a classification that mirrors several categories of gay porn. If you're into twinks (young, thin, hairless men), otters (young, skinny, hairy men), bears (thick hairy men), hunks (your stereotypical incredibly hot man), twunks (half-way between a twink and a hunk), and so many others that if I continued any further you'd start to doubt my stalwart heterosexuality.
I'm straight as fuck, unlike you! Give me one reason why I would be interested in the best gay porn sites?
Because the fact that you've clicked on this page proves to myself and anyone else with a brain that you're at least one-tenth bi-curious. If you were truly one hundred percent straight, it would never have even crossed your mind to read what I have to say about gay porn. A real straight guy like ThePornDude would glance at it and then move on to banging two chicks at once.
I mean… that is what some people would say, but they're wrong because that would mean that I'm also gay. Which I'm not. I'm totally not into the thought of a rock hard cock pounding away at my tight quivering asshole, and I never masturbate to the thought of rubbing my hands through a big beefy bears forest of chest hair.
Nope. I'm straight. And not in denial. So let's start over.
I watch gay porn for science. It's experimenting—and not in a gay way, in a sociology way. Gay people are worthy of our love and respect, just like us normal people, so it's important to study them and understand how they work. And what better way to do that than by watching them suck cock?
Who's your favorite gay pornstar, PornGeek?
I don't know why you're asking me this question. I obviously wouldn't know any gay pornstars, because I'm not gay. Who is your favorite gay pornstar, huh? Yeah, how does it feel to be asked that?
But… since I'm such a wonderfully nice person, I did a couple of minutes (or months) of research into which gay pornstars are the best, just so that I could more accurately answer your question. I'm not sure how must faith you should put in my recommendations, seeing as I don't like men, but here's what I found out anyways.
I mostly prefer twinks. For those of you even more straight than I am, those are young, slender, hairless, small men—basically as close to being a woman as you can get, while still having a dick twice as big as mine. I'm talking about guys like Kody Knight, Aiden Summers, and Jack Herrer. They're nonthreatening and feminine enough that they make my latent homosexuality stay latent, but also hot enough to let me bust quickly enough so that I don't get caught watching gay porn.
On the other hand, sometimes I'm in the mood for bears like Rogan Richards, Scotty Rage, and Brad Kalvo. These hot hairy guys really touch that deep, dark hole inside me that only a man who strongly resembles my father can reach. And, no, that's not a metaphor for my asshole, it's a minimal description of my damaging daddy issues.
Though sometimes I crave a classic, Adonis-like physique. No pornstars are coming to mind, but I mean guys like ThePornDude—tall and ripped, with a nice thick cock and a sexy deep voice—perfect in every way.
Haha, I was kidding! I can't believe you thought I was serious… I'm still totally straight (unless you're reading this, ThePornDude, in which case you know how to reach me).
PornGeek, time to get rid of your hentai pillow "Suki" and get out of the closet! Grindr awaits, queer!
A… friend of mine used Grindr, once, actually. And he told me that he enjoyed it quite a bit. He met with a nice "woman" named Brenda in a sketchy hotel off of the interstate. She was just passing through town, but I… I mean, he… was feeling lonely, so he asked if he could spend the night with her.
She had a bit more stubble and a bit larger Adam's apple than it looked like in their pics, but she was kind enough. They spent the night together cuddling, and even though her panties seemed oddly bulgy, and even though he fell asleep very quickly after she offered him and drink, and even though he woke up with a sore asshole, he didn't regret his visit at all.
I still keep Suki around, though. I mean, he does. He also has a sweet, beautiful love pillow named Suki—it's normal to have one, I already told you this. Casual sex and fleeting intimacy are one thing, but the love and dedication that only a good pillow can provide lasts forever.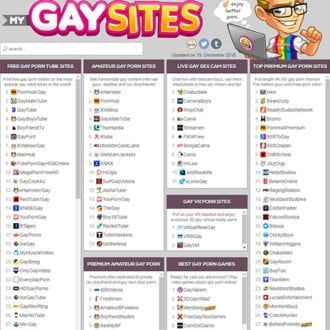 MyGaySites.com! My Gay Sites is a website that is an excellent place for all gay folks to look up the hottest websites and videos and a website that will make sure that this kind of browsing isn't exhausting, or tricky in any way. Gay site directories are all over the place but what separates My Gay Sites from the rest is that TPD gives it his stamp of approval.