Can I get laid and fuck real women for free tonight? How do I arrange a local sex date with horny girls?
I feel sorry for some of you lonely motherfuckers. While you're browsing this porn site, trying to figure out how to get a lady to touch you sweetly, I've got my girlfriend right by my side all the time. That's one of the advantages of dating an anime princess body pillow, though I often wonder what it's like to put my penis inside of a real woman instead of chafing my genitals raw against my woman's canvas hide. I guess that's the entire point of these dating and hookup sites on my list.
Most of the websites I talk about just want you to shake your dick at the screen, but the sites on this list want you to meet somebody to shake your dick for you. Alternately, you can stick your wiener in a tight pussy, mouth, or asshole if you play your cards right. Kinky motherfuckers can even get their kicks by finding other freaks with the same fetishes. I'm pretty sure that's how my mom met that pervert who's been riding her around the house like a human fat cart.
The setup is usually the same. Make a profile with some flattering selfies and a little blurb exaggerating all your accomplishments. Also, make it sound like you aren't a dirty neckbeard who lives in your mom's basement that never bathes and masturbates compulsively to Sailor Moon parody hentai. Browse profiles of hot chicks using the search features to seek out the perfect broad. Look for the one who isn't going to judge you for your extensive collection of imported silicone schoolgirl vaginas.
What kind of girls/milfs/trannies can I meet for a sexual encounter with no strings attached?
Some of these sites specialize in certain types of hookups. You're not going to meet any teen hotties on MILFaholic, and BlackCrush is a little bit lacking in Asian bitches. That said, these sites all have advanced search features to help you find exactly the type of broads you're looking for. The sites I chose for this list are hopping; with all that waiting cunt on the other end, you're sure to find exactly the sort of slut you want to bounce on your cock, finger your butthole, or step on your nuts while calling you a sad little man.
I was sad there weren't any hentai girls, though it does make me feel better knowing my semi-imaginary girlfriend can't get on Ashley Madison and cheat on me. You'll find absolutely everything else though: fat girls and skinny ones, blondes and brunettes, White girls and Latinas. Dial-in your age range, preferred body type, and other preferences. I heard girls who smoke put out, but I'm intimidated by women so casual about breathing fire. Girls with tattoos think needles are okay, so maybe they'd appreciate my micropenis. I'll definitely be including that in my search.
What are the best hookup sites in 2019?
If you're sick of reading, just start at the top of the list. You probably should read a little bit, though, because these dating and hookup sites do have slightly different demographics they're shooting for. The wrong site might not get you laid as quickly as you want, or you might end up with a mail-order bride cleaning your kitchen and your shaft when all you wanted was a no-strings-attached bang with a girl young enough to be your daughter.
AdultFriendFinder has been one of the top hookup and swinger sites for a long time, and they're still at the top of the list. Their selection is ridiculous because so many people have signed up over the years, and the community is very active. SexDating, FuckBook, BeNaughty, Badoo, and Fling have similar formulas, but smaller user bases.
Ashley Madison is popular with married folks looking for a hookup, while SeekingArrangment aims to hook rich sugar daddies up with hot sugar babies. FetLife and Alt cater to those with more adventurous sexual tendencies. By that, I mean it's for kinky freaks into BDSM and all kinds of fetish fuckery.
My mom keeps sending me links to Find-Bride. I know she hopes I'll move out of the basement if I purchase a European spouse, but I'm not going to get very far unless she raises my allowance significantly. I can barely afford my daily gallons of Mountain Dew as it is.
How do I know that profiles of girls are real/fake on these sex dating websites?
A lot of it is just common sense. If the bitch seems way out of your league but seems to fall in love immediately over text chat, be wary. Don't send anybody money if you've never met them, no matter how fucking sexy they look at the photos. Also, learn how to do a reverse Google Image Search. It's two clicks and will help you spot fake profiles immediately.
I will say that these dating and swinger sites on my list have fewer scams than you find on similar websites elsewhere. Remember how fucked-up the Craigslist personals were before they shut those down? A lot of these websites do some primary identity verification before you get to play, which makes it a little bit safer for you. Still, it's up to you not to be a fucking idiot. That's how I ended up sending all of mom's credit cards to a Nigerian dude who I thought was a teenage cosplay enthusiast with giant titties.
Can I also pay to meet girls, since I'm ugly as fuck or I just don't want to waste time?
Absolutely. That's the whole point of Seeking Arrangement or Find-Bride, even if they don't exactly word it like that. The rest of the sites are probably going to require a little bit of game or good looks on your part, but money does equal game and good looks in a lot of ways.
Look, if you're that worried about it and have the cash to spare, you can check out my list of Escort Sites. Some would argue that you're paying for sex either way, so hiring a prostitute is just cutting out the expensive dating business and paying for that pussy directly. It's up to you, dude.
We're swingers. How do we get in contact with other couples for sex?
Most of these sites are swinger-friendly. You can definitely meet other couples on sites like AdultFriendFinder, which actually bills itself as "The World's Largest Sex and Swinger Community". If you're looking for a dedicated swinger site, SwingersDateClub aims itself solidly at the worldwide swinger community.
PornGeek, why don't you marry a poor Russian or Asian girl?
Goddamn it, mom! I told you time and time again not to email me at work. I promise you! I've been browsing Find-Bride every day, looking at the new potential wives that pop up on the site. I haven't found the perfect girl yet, and I need more time. Also, you're going to have to give me a bigger allowance if you really want to make this happen.
PornGeek, a random slut is going to pop my virginity! These will be the best 30 seconds of my life!
Dude, you can go 30 seconds? What's your secret? I've got various tubes of penis-numbing cream, and the best I'm able to do is about 14 seconds. The worst I'm able to do is the itchy, burning, flaky rash that the cheapest herbal Chinese cream gave me all over my penis, testicles, and butthole. Seriously, don't buy the stuff you see in the pop-up ads from the free tubes. I'm actually waiting for all the unsightly swelling, bleeding, and pus-weeping to stop before I really get serious about these hookup sites. I don't want to embarrass myself more than I know I already will.
We can't all be The Porn Dude, I guess. If bitches aren't throwing themselves naked at your feet as they do for him, these dating and swinger sites are your next best bet.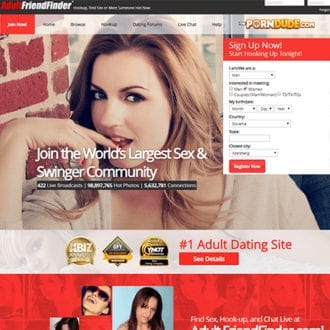 AdultFriendFinder.com is probably a site you've heard of but never taken seriously. Well, brother if you're still on the hunt for a girl to lock down (or just want to chat with hot chicks) this is a site which you need to check out. To get some details which will please your 'D' click here to find out.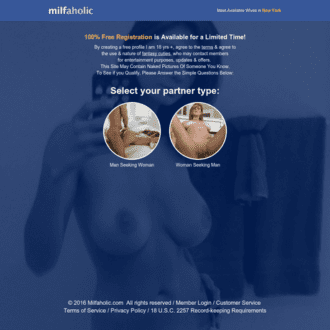 SexDating is a service that matches you with a dating site that has the highest odds of you getting laid. SexDating matched dating sites are only legitimate, never scammy or spammy. Stay safe while finding a dating site that will work for you by choosing SexDating today: it's like having a wingman that wants to see you laid!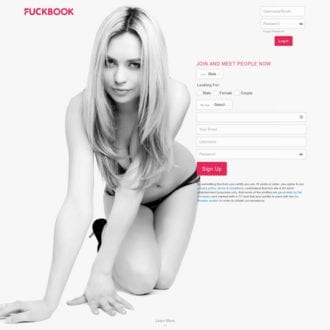 Bored and looking to have a great time? Fuckbook dating website is a convenient way to find hookups. The site is super easy to sign up and does all the work for you. It is filled to the brim with horny members looking to share some fun experiences that you can get in touch with. Based on your preferences, the site will automatically find matches for you, and voila, you are on. On Fuckbook, a great experience is guaranteed.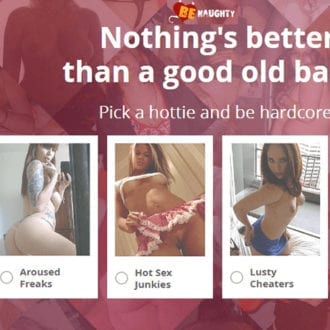 BeNaughty.com is a sex dating site that wants you to find a lovely lass that you can not only satisfy sexually but also uplift and praise for the rest of their lives. BeNaughty automatically flags scam messages so you never fall prey to scams. BeNaughty also makes it easy to find people close to you so you can chat them up and…well, be naughty.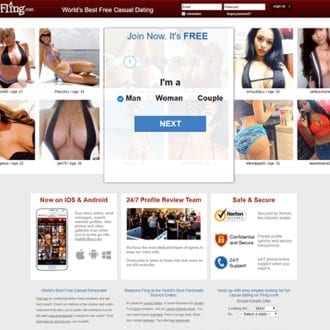 Fling.com! Dating sites like Match.com and eHarmony are cool, but let's be real, guys just want to get their fuck on. Fling is a hookup dating site specifically aimed towards getting horny guys and girls laid. The site has babes showing off their ass and tits in their profiles, members uploading homemade sex videos to share, and more. To access Fling's main features you'll need to pay, but the site offers a large userbase and strong police against fake accounts.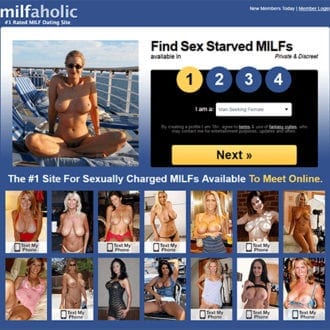 Milfaholic.com is a dating site that matches up cougars with cubs—but make sure you bring your A-game, because the man-to-woman ratio is so out of whack that only the best of the best guys will see any action.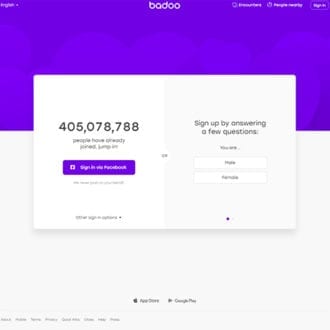 Badoo.com is a dating site. It has a simple and effective design, a Tinder-style swiping game, and a lot of chicks who are single and ready to mingle … But will it get you laid? Well, that is kind of up to you! There is only one way to know for sure. Read my review to find out if Badoo is the right dating site for you (and your penis)!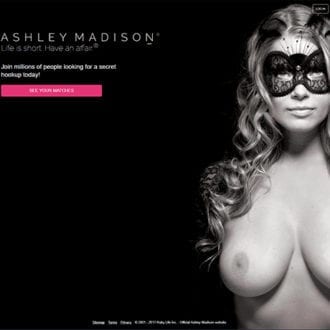 AshelyMadison.com is an all-round dating site that accommodates people of various sexual orientations, professions and best of all, marital statuses. Users are assured utmost discretion and are independent enough to control who views what from their account. And to top it all up, matches are easy to hitch with lots of sex and romance seekers present.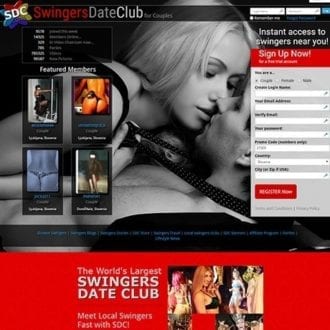 SDC.com is not just a site where swingers can connect with one another and plan events to swing themselves into orgasms in giant groups of couples. Swingers Date Club, in fact, is an entire lifestyle resource, where you can learn about swinging, safe practices, and all manner of kinks and sexual niches. This site is huge, and a huge win for swingers everywhere. Read my review to learn more!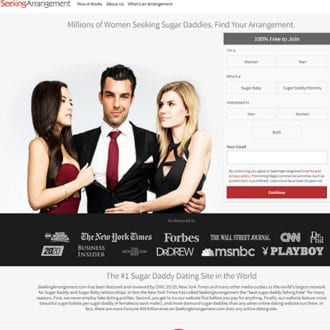 SeekingArrangement.com has a lot of beautiful young ladies looking for sugar daddies, as well as some hot MILFs looking for sugar babies. Except to open your wallet, though—the site and the sugar babies are both pay to play.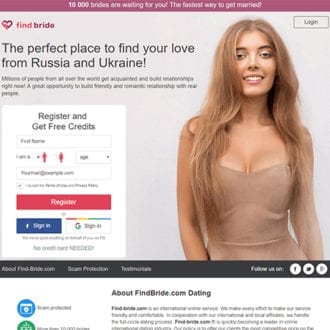 Find-bride.com is an online international dating service that presents an easy perfect way to find love in Ukraine and Russia. The site offers its beautiful brides and potential husbands not only a conducive dating environment but also competitive prices for their services, including the exclusive two-way video streaming and live chats. On the other hand, the site has made its tools simple to use basically administering email chats for free. Now shall we find you a wife already?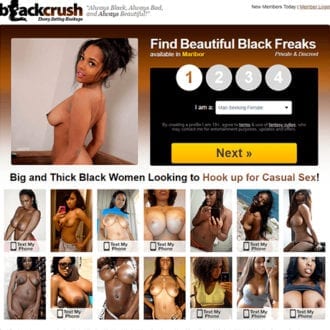 Sites like BlackCrush.com is perfect for those of you guys who are looking for hot single black women who are ready to mingle. After all, it's the 21st century, people practically live on cyberspace, and it's the best new way to get a hot, chocolate-colored date. To find out why you should check it out – even if you don't have an ebony fetish – click here to see my review.