I want to watch free female-friendly porn videos with erotic storylines and romance between a couple!
You sound just like my girlfriend! She always wants to watch soft stuff with a lot of setup before they get to be blowjobs and cock riding. I noticed a lot of the time these porn sites that cater to women use softer lighting, and when the sex gets rough, it stays respectable somehow. There's a classiness you don't always get in the hardcore gangbang scenes, which isn't to say you won't find hardcore gangbang scenes here. It's just that when a woman is taking cocks in multiple holes, there's a lot more romance involved.
Some may say my girlfriend's opinion doesn't matter since she's just an anime body pillow. I say the lady is a princess, as denoted by the crown atop her big-eyed head. I treat her exactly like the lovely, beautiful women getting their brains fucked out in these lovingly filmed, erotic tales of romance and lovemaking.
What kind of (HD) (full-length) passionate erotica movies can I see on these sex tubes?
Broads are complex creatures. I never claimed to be an expert, though a lot of people claim I have no room to speak about anything. I'm a kissless virgin after all, who can't even speak to women without getting the nervous shits. That said, I know that women tend to disagree with each other about everything, and that's even true with the kind of porno that turns them on.
Sometimes it seems like the criteria are just softer lighting or softer fucking, while other times, it's a heavy romance that lingers in the air. Yes, even when the girl is getting her face jizzed on by a guy with a colossal dingdong. Sometimes it seems just as nasty, and hardcore as the movies dudes always jerk off to, but that's because a lot of the time it's literally the same thing.
I may not be an expert, but the perverted geniuses who make these websites have more insight than I do, not to mention the budget for market research. Whether it is softcore erotica, sweet talk instead of really filthy, or just a lighter touch when it comes to the BDSM slapping. The porn on these websites was formulated and refined for the fairer sex.
What are the best "porn for women" tube sites in 2019?
Even in the era of #MeToo and gender equality, there are surprisingly few "porn for women" sites out there. You only have a handful to choose from, so you may as well go on a full tour today. It's a good thing you're a woman, so you can spend all day watching Internet smut instead of working. (Not that I've ever worked a day in my life, but I'm just basing this on observations about mama. The hardest job she does is riding her mobility scooter out to the mailbox to grab her welfare checks.)
Bellesa is one of the premier porn sites aimed at chicks. They really go all-in if you check out their mission statement. They're talking about how women who take hard cock up the ass and then suck it clean deserve to be treated like respectable citizens and shit like that. Their content is legitimately more sensual than you usually find in high-budget smut, and they've got hot porn stars and good production, too.
Pornhub's Porn for Women section is arguably one of the best in the world. Perhaps the best ever. Theirs is based on actual user data, compiling the most popular teen deflowerings and anal threesomes viewed by their female visitors. As the biggest porn tube in the world, they are in a unique position to learn exactly what female porn fans want and then deliver exactly that.
ForHerTube is a more traditional free sex tube, only with a pink color scheme and content aimed at a lady audience. You'll still find plenty of voluptuous MILFs milking cock and Asian lesbians tribbing, of course. Those of you looking specifically for something a lot softer than hardcore, the self-explanatory SoftcoreTube awaits.
Why are female pornstars paid a much higher salary, since they demand equality?
It's because porn fans care a lot less about the cock in the film than the cooter. Think about it. When was the last time you cared who was railing Melissa Moore, Adriana Chechik, or Karla Kush? I bet you never even thought about it. I watch porn all goddamn day! I stroke my micropenis until it looks like a deformed mushroom, and I could probably only name half a dozen porn studs. I'm no expert, but if you're watching the ding-a-lings as hard as you're watching the bouncing jugs, you may be a flaming homosexual.
PornGeek, are you also a fan of porna, romantic sex, and classy pornography?
I have to admit, it does fill a certain human need that I generally have no way to fulfill down here in mom's basement. A lot of dudes might be bored with the long, rambling setups and romantic tension before the cock-swallowing begins. However, I find it pulls on my heartstrings and gets me a little more attached to the characters. Although, maybe I would cry less if I didn't fall in love with the girls getting their shit packed and their faces squirted on lovingly and respectfully.
I actually study the stuff a lot. Mom says I'll never touch a real woman, but if I ever get a chance, I want to know how to do it right. Woman porn tubes have been giving me lessons in sensual touching, romantic whispering, and erotic twat-hammering guaranteed to make your wife or girlfriend's pussy soaking wet and ready for your arrival. At least, that's what I tell myself as I sob to sleep into my pillow each night.
All #MeToo male feminists and white knight neckbeards, unite! Put that pussy on a pedestal!
I've been saying that for years! I swear, nice guys always finish last. I buy my girlfriend flowers, jewelry, and expensive perfume. Sadly enough, she just sits there on my bed staring at me with her big, beautiful, unblinking anime eyes. I try all the romance I see in these female porn movies. Even then, all this bitch ever does is get a little crustier and stickier each time I bang her. I guess ejaculating all over her scratchy burlap skin doesn't help either.
Whatever, though. If she won't give me the romance I need, I'll just have to live vicariously through the sweet, erotic fuck movies for ladies. I was considering lighting some candles and watching some of these romantic pornos in the bathtub. However, it would be too embarrassing if the fire department had to come out a second time if I get stuck again.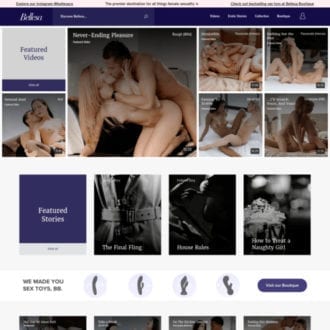 Bellesa.co is far from your average porn site. In many ways. For one, it specializes in porn that focuses on women just as much (maybe more) than men. That means real orgasms, authentic connections, and something much closer to actual sex than you'll find on most porn sites these days. Plus, it has so many other features for you to enjoy. Read my review to learn everything it has to offer!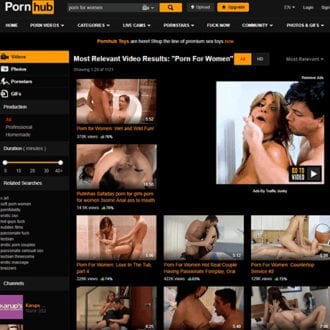 What do women want? PornHub.com's got an entire section of porno that's Popular with Women. Find out what broads are really watching on the free sex tube giant! Stream their favorite teenage gangbang movies or watch step-siblings experiment with kinky taboo sex. Ladies love lesbian threesomes, rough sex, double penetration, and creampies galore!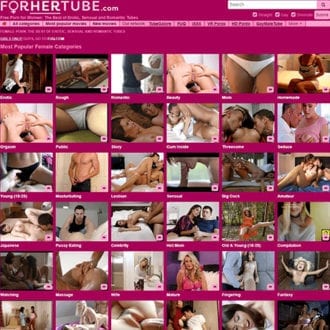 ForHerTube.com is a porn aggregator site that is not quite like the rest. It is free like the rest. It aggregates from a ton of sources like the rest. Where the difference lies is in the fact that it was made for women. It's about time that there is some porn for women out there! That doesn't mean that there isn't plenty fort men to enjoy on it, too, though. Read my review to learn more!