I want to watch and download exclusive full-length 720p/1080p/4K premium VR porn movies ad-free!
You are in luck, my nerdy and perverted friend. They've been talking about this shit for decades, and we are finally entering the age of real virtual reality porno movies in the comfort of your own home. Strap on your sex helmet, lube up the old Fleshlight, and immerse yourself in a 180- or 360-degree world of smut in which you get to bang your very favorite pornstars. I thought I was living the dream when I bought my anime body pillow girlfriend. These movies let you smash girls like Adriana Chechik and Valentina Nappi.
It's a great time to sign up for one of these sites because the market is new, and everyone's competing for some of that VR sex money. You'd think they'd charge extra for the 3D porno, and they might eventually, but right now, the sites are usually cheaper than a typical 2D porn site. Experience binaural audio, the skin tingling ASMR feeling of a genuine porn slut whispering in your ear and moaning thanks to that deep dicking you're giving her, and get a much better bargain than even the crack whore behind 7-11. Plus, you don't also get gonorrhea!
Why should I pay for premium virtual reality porn videos, if I can see it 100 % for free on PornHub?
Shut the fuck up, asshole. Yeah, the free tubes have a little bit of 3D smut you can watch through your porn goggles, but if you think that compares to the real shit, you must be a fucking retard. I don't think anybody who's used a VR gadget would think this is remotely true.
With most premium sites in other genres, I point out that paying for it gives you immediate access to the latest and the greatest in porno. Paid smut is always full-length and delivered to you in crisp HD. The same is true with virtual reality fuck flicks, but that crisp HD is even more important here. Unless you work at a server farm or somewhere with a ludicrously fast business connection, streaming VR movies doesn't look very good. You need to download those motherfuckers in advance!
When you've got that high-tech scuba gear on your face, the pixels are literally right up against your fucking eyeballs. If you don't have the absolute maximum highest-def your device is capable of; it's going to look like pixelly Nintendo shit. If you honestly think you can get that from the free tubes, more power to you, I guess. You deserve some kind of benefit for your disability, you poor, blind fuck.
What are the best VR porn sites in 2019?
VR is pretty fucking new, and there's a bit of a learning curve to it. Early 3D fuck movies had a range of issues as producers adapted to the technology. One of the first movies I watched in my sex helmet featured a Czech girl who leaned in to kiss me, and it felt like she was eating my face. The sites that have been around for a couple of years, getting in on the ground floor, are a little better at avoiding the VR quirks that pull you out of the scene.
VRBangers, BaDoinkVR, SexLikeReal, and NaughtyAmericaVR are some of the best all-around virtual porn sites right now. You get a nice, solid mix of depravity with a lot of your favorite talent in the business. If you're looking to get even more in-depth with the sexual technology, VirtualRealPorn is big on pushing the next wave of teledildonics. Teledildonics, if you're unaware, is Internet-assisted sex involving dick-sucking machines, motorized vaginas. Another example is this footjob simulator I'm trying to build out of a silicone anime schoolgirl foot I ordered from China.
As a basement-dwelling neckbeard, I have to point all my fellow geeks, dorks, dweebs, and general fatties to VRCosplayX. You jack off to comic books and video games, right? This site makes your masturbatory fantasies real. Kink VR will appeal to the fetishists and BDSM freaks, while XVirtual is some next-level 3D horror porn for you deviates who want something realistic, rough, nasty, and fucking crazy as hell.
What kind of 3D goggles or VR headset do I need to see (HD) VR porn videos?
Any of them. These work with any of the Oculus units, HTC Vive, Gear VR, PlayStation VR, Google Daydream or Cardboard, or even your smartphone. Really, you shouldn't run into any problems at all unless you bought some off-brand bullshit from some hillbilly's trunk at the flea market. Even then, you still might be able to make it work if you dig into the extensive Help section on any of these sites.
None of these sites are in the business of selling virtual reality sex helmets. They want you to be able to watch their porno and keep paying your monthly membership. They'll do everything they can to make it easy for you to get the movies playing on any device. You're going to be just fine.
Is it possible to get a free Google Cardboard headset and how will it affect the VR experience?
Yeah, a lot of these sites are still giving out a free Google Cardboard to new subscribers. If you've never experienced virtual reality, Cardboard is a decent intro. It's worth noting that Google abandoned Cardboard years ago, came out with the Google Daydream, and subsequently abandoned that one. Any of the newer devices are going to give you a much fuller VR experience, with more realism and better immersion. Still, if you've already spent your allowance this month on a freezer full of microwavable cheeseburgers, you might appreciate the free intro to the new sex tech.
PornGeek, shut up and take my money! I feel like I'm having real sex with world-famous pornstars!
Fuck yeah. I've never banged an actual porn star or even a real girl, but whenever I stick my greasy head in the sex machine, I feel like a real porn stud. I wonder if this is what The Porn Dude feels like all the time. It must be really nice to have constant access to the best poon in the world. He can smash it without his mom yelling down into the basement that he's making too much noise. That happens to me all the goddamn time! I hate to think about how mama would react if there was a woman down here with me, making similar girly squealing noises as we got off together. When I finally do lose my virginity, I hope she doesn't ruin it the way she tries to destroy my virtual reality jerk sessions.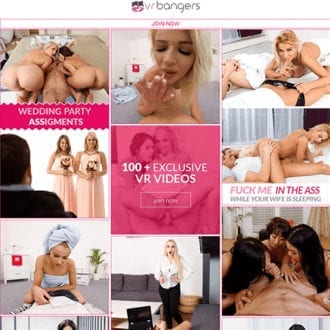 VRBangers.com will let you bang the world's most beautiful and talented pornstars from the comfort of your home or the bus ride to work. Smash hotties like Riley Reid and Adriana Chechik in hyperrealistic, 3D virtual reality. Experience blowjobs, anal and vaginal humping, and the exquisite erotic joy of group sex. Download, stream or use the app!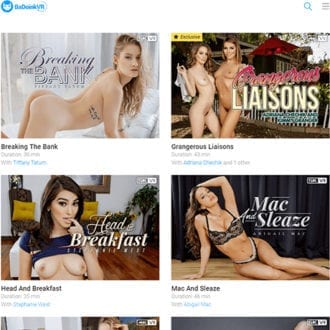 Bang your favorite pornstars at BaDoinkVR.com, winner of the 2018 AVN and XBIZ awards for VR Site of the Year. Experience 3D threesomes with babes like Riley Reid and Adriana Chechik in stunning, crystal-clear 5K HD. Updated with two exclusive virtual reality fuck scenes per week, plus a bonus VR flick from the network. Includes BaDoink VIP access.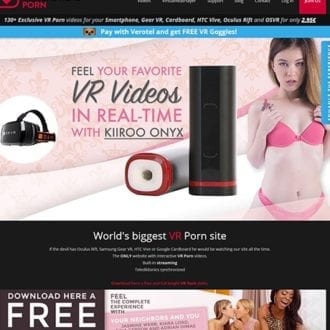 VirtualRealPorn.com is a relative veteran of the VR porn space. The site has a decent collection of exclusive VR porn scenes that range from hot solo ones, lesbian acts to loads of awesome hardcore sex, and POV the main catch. The scenes are incredible, and videos are in 4K and 5K at 180-degrees and run at 60fps. Also, you can always bring your smart toys for interactive scenes. An experience out of this world.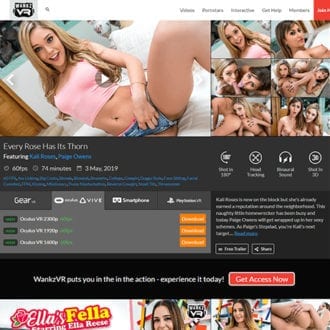 WankzVR.com has been churning out top-shelf virtual reality smut since 2015, and currently has nearly 400 3D fuck flicks in the stash. Updated twice weekly with exclusive VR fuck scenes starring ripe young pieces of ass who just can't get enough of your cock. Hammer hot teens and get your dick wet in virtual threesomes. With access to bonus sites!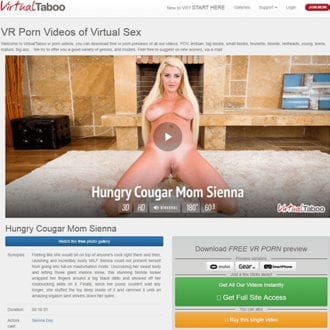 Fuck your sister and your mom without having deformed kids! VirtualTaboo.com combines the perverse magic of incest with the technological marvel of virtual reality, putting you right in 5K HD scenes of sister/brother blowjobs, mother/son cock riding, and full-scale orgies featuring the full family. Updated 3x per week with exclusive taboo VR porn!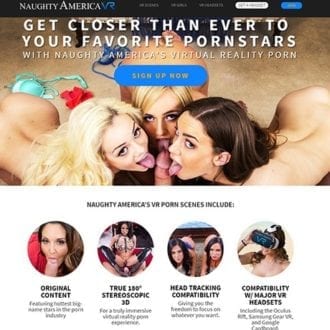 NaughtyAmericaVR.com is a branch of what is already a legendary porn website, bringing you the hottest and most talented pornstars in America, straight to your VR headset. They're affordable enough, and they bring you top quality for your dollar.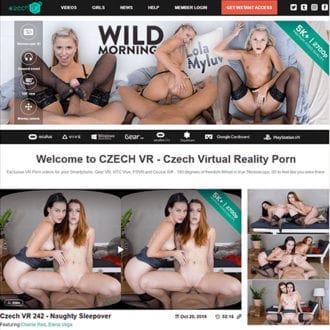 Want to smash a Euro whore? CzechVR.com has nearly 700 virtual reality movies that let you fuck the hottest women from the Czech Republic and across Europe. Updated three times a week with exclusive 5K 3D sex movies featuring lesbian tribbing, titty fucking and hardcore threesomes. Get your cock sucked or get kinky with fisting and fetish movies.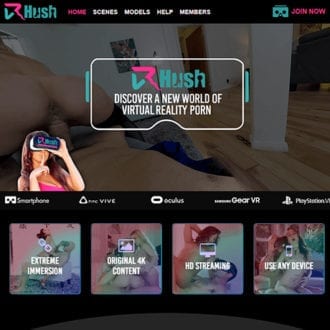 VRHush.com brings you virtual reality porn videos in up to 6K resolution and is compatible with every VR set known to man. It's a premium service and they only work with the most popular pornstars. They are truly the porn website of the future.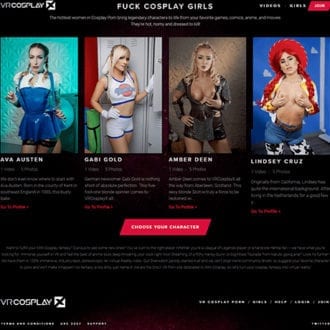 VRCosplay.com is a premium pornographic website which contains exclusive unique content featuring popular girls in pornography dressed up in cosplay fashion as some of the most popular female characters in various fictional franchises such as cartoons, animes and video games. This site's content is indefinitely locked behind a paywall.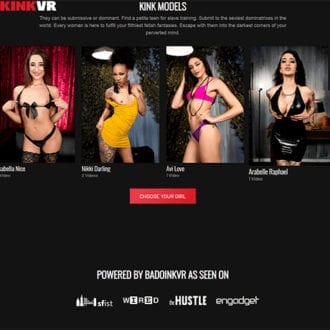 KinkVR.com is exactly what it sounds like: kinky-ass fetish/bondage porn in futuristic virtual reality. Tie up, abuse and fuck the most beautiful women you've ever seen in immersive 5K 3D sex scenes. Updated weekly with whips and chains, handcuffs and suspension rigs, cruel cuckolding and extreme fisting. With BaDoink access and bonus VR scenes.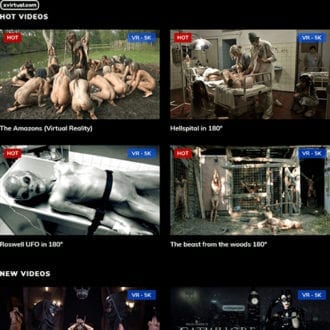 XVirtual.com provides virtual reality porn that isn't your standard, basic, every-day stuff: if you love strange, fetish-oriented, and parody porn, there's no better VR site.
WetVR.com has everything you love about porn, but in hyper-realistic, 3D virtual reality that will change how you watch smut. The premium porn destination has a robust collection of hot, hardcore, VR porn movies ready to download or stream directly to your eyes in unbelievable 5K quality. They have a lineup of sexy models willing to work on your fantasies. Multiple new scenes are added every week, and this site could become your favorite destination for fap materials.