Can I have anonymous sex chat with horny women and real naughty girls in free adult chat rooms?
You will quickly realize that I live for uplifting and encouraging Earth's most beautiful creatures whom just so happen to be female! I do this telepathically and in-person when I can sneak away from the evil grasp of mother's firm grip. However, I'm usually busy praising beauties in the basement or wiping mother's buttocks when she gets her nightly poop drizzles. I don't have time to get away and, 'strut it,' like ThePornDude. That's why I enjoy popping on sex chat sites and having a grand old time with beautiful ladies and likeminded male feminists. They know a thing or two about treating the ladies properly.
I haven't had a lot of luck getting a female to chat with me longer than a few minutes. But perhaps you will have better luck than I. Maybe, you'll meet me on one of the sex chat sites? If you are a respectable gentleman, then perhaps I will introduce you to my mother. I have a bad feeling she is going to marry the butcher down the street, and I fear the next piece he meat he chops up with his ancient butcher's knife is…me.
Anyways, yes, you can chat with horny women, friend! Look, the chatroom scene hasn't died just because people like me shut down Yahoo Chat, AOL Chat, and other behemoths of the 90s. Social media may have killed the mainstream chatroom, just like Tony Robbins slowly ate his family and replaced them with androids a few years back. However, there is something about the anonymity of the chatroom that social media cannot replicate. Social media urges you to be transparent about your life; chatrooms invite you to be secretive.
Maybe that's why the Chads that love cheating on their wives and girlfriends love visiting chatrooms and flashing their penises to strangers. It's also a good way for male feminists that are usually too busy worrying about the female experience to court beauties in their own way. Instead of relying on actually speaking face-to-face, we can duck behind a device in a chatroom. That is until the time is right to unveil one's true aura. It's always a recipe that seems to work.
But if you want to get on here to have a sexy chat, I suppose you could do that too. Why you would want to do that instead of getting to know and understand the female first is beyond me, though. What's sex chat if you don't know what kind of anime she's into?!
How do I know that I'm talking to a real woman and not an obese dude living in his mom's basement?
It used to be that you would never know. It was too easy to take any image off the Internet and crop it in Microsoft Paint. It made it look like you just took the shot, and you could share it with whoever you were chatting with. Nowadays, if you want to get away with hiding your face, you're out of luck because everyone can show themselves from their smartphone's camera. This is bad news if you want to hide your face, but good if you want to be sure that the person you are talking to is actually a female. Not a damn creep that only wants to see your dingus, and this gives you an extra layer of protection.
The great thing about modern sex chat sites is that they all have webcam capabilities. There is no excuse for someone not showing themselves on camera and verifying who they are. Of course, if you love living dangerously and want to run the risk that you are chatting with a fat anus, that's up to you. Follow my advice, and you'll find fly females that want you to sing a couple of show tunes to them!
How do I find naked women on Omegle or Chat Roulette? Dicks are flying all over the place!
It's no secret that Chads love getting on sex chat sites and showing their weiners for the world to see. For some reason, they love exposing themselves to everyone and everything: females, men, livestock, produce, the list goes on. There are also many closeted homosexuals and gay men that want to show off their throbbing penis, and that's fine. But if you only want to see beautiful naked females, you are going to have to work a little smarter rather than harder.
ThePornDude actually goes into detail about the best way to see as many stunning females as possible on these sites in his reviews – especially when it comes to Omegle and Chat Roulette. If you want to avoid the weenies altogether though I have bad news: it's never going to happen. Men's penises are a cancer on these sites and our society as a whole. If it was up to me, we would all have giant clits to remove toxic masculinity from this world altogether. It's a plague on our existence as a species, and if I could cut my pee-pee off and live without it, I totally would!
What are the best sex chat sites in 2019?
You would be amazed how many sex chat sites still exist in this day and age! Even though they feel dead, sites like Omegle have kept the chatroom dynamic alive. Certainly, since that Chad Mark Zuckerberg decided to steal source code from smarter Chads and use it create a social network, so he could spy on his classmates. Omegle is the king of the chatroom scene in 2019 too. It offers free texting and video chat with by far the largest userbase of any of the adult chat sites; if you want the most active community, this is it.
Chat Roulette is another similar site that became famous for its never-ending sea of penises, and it hasn't changed much since then. If you still have PTSD from watching that old man have intercourse with his office desk, steer clear until you've seen the other sex chat sites.
From there, sites like Chat Avenue, FreeChatNow, iSexyChat, and 321 SexChat all allow you to visit adult-themed chatrooms. You can have nasty chats with beautiful females to your heart's content. Some of these sites – namely 321 SexChat and Chat-Avenue – have been around for years and also have a pretty large userbase. While some differ in overall functionality – FreeChatNow allows you to video chat while iSexyChat is purely an IRC chatroom, for example – the core offerings they provide more than make them worthy of a visit. Pay each of them a visit and see which sites stand out to you: chances are, you will find someone worth talking to!
PornGeek, let's talk dirty! What's your best pickup line to impress the ladies on these platforms?
Well, that one is easy, it's the same thing that I tell every female when I meet them for the first time. I tell them, "I value your contribution to this world, I am not here to hurt you, and you are special just for being female." I don't know if they understand what power those words have, but I do!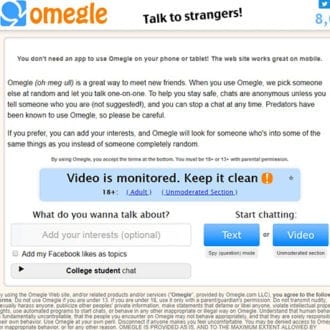 Omegle.com is your random chat partner available for you 24 hours for free. All you need to do is enable the text or video only feature as well as include a list of preferences. The site will hook you up with some random chat mates hopefully hot horny babes willing to risk playing the 'show me what feels good' game irrespective of strict regulations. It's strangers having weird fun online with each other, and you could always join.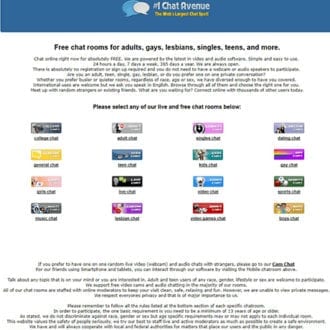 Everyone likes getting kinky once in a while, and what better way to practice your pick up lines and flirting skills than a chat room. Chat-avenue.com is available 24/7 and is simple to use. Requires no registration or personal information. No webcam/audio speakers needed, just speak English. There are people of different races, age, and sex waiting for you to have some live free sex chats and the site is diverse enough to cover all tastes.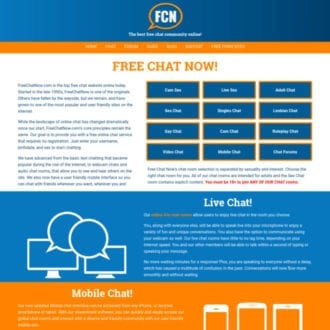 FreeChatNow.com is a chat site that wants you to talk to strangers in a chatroom like it's 1999! Perfect on mobile, FreeChatNow lets you chat wherever you are: on a plane, a boat, or at home relaxing. With so many beautiful ladies to choose from and cams always optional, you're going to find plenty to love at FreeChatNow. Visit and talk to someone today!]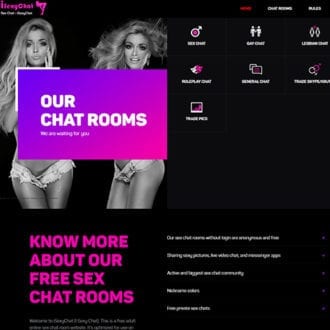 What's better than talking with a friend about sex? Why talking about it with a bunch of strangers on the internet, of course. Sure, you might think that sounds weird, but think about how much information you share with randos already. Well, chat sites offer you the ability to discuss and explore your erotic fantasies with the benefit of anonymity. One of the more interesting, frustrating, and unique platforms is called iSexyChat. How is it possible for that to happen. Well, to find out more, click here to read about iSexyChat.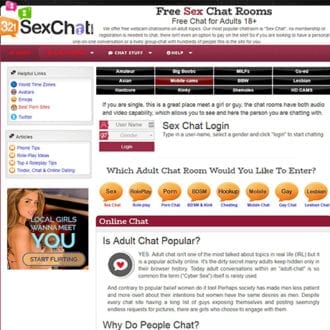 321SexChat.com is an adult chat site that wants to help you to uplift beautiful goddesses one-on-one. If you're a true Chad, 321 Sex Chat can be used to have a sexual conversation with females as well. Whatever you aim to do on 321SexChat, there is bound to be a beautiful female that wants to keep you company. Visit today, and see why so many people regularly visit 321SexChat!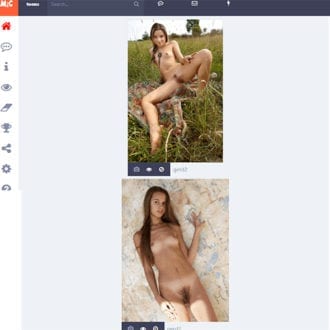 MeetInChat.com is an adult chat site that bridges the gap between adult chatrooms and social networks. A modern take on the traditional chatroom, Meet in Chat allows you to chat with females all over the world without ever having to sign up for an account. Find someone worth chatting with today, you won't regret it!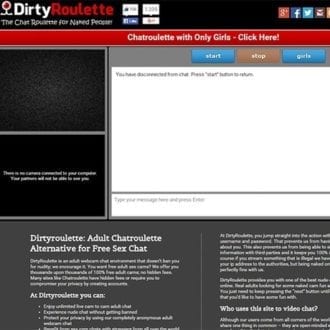 DirtyRoulette.com is a free cam site that allows you to connect with random cammers all over the world! Show your best assets or simply have a traditional text chat to learn what turns each other on. DirtyRoulette is all about getting erotic with anonymous people, so what are you waiting for? Take your clothes off, hop on cam, and show off those genitals today!]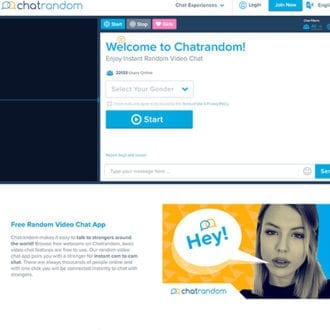 ChatRandom.com is an anonymous cam site that allows you to chat with people from all over the world. No matter if you want to cam-to-cam or merely text chat with other people, Chatrandom makes it happen. Visit Chatrandom today, and have a chat with someone you would have never met otherwise!]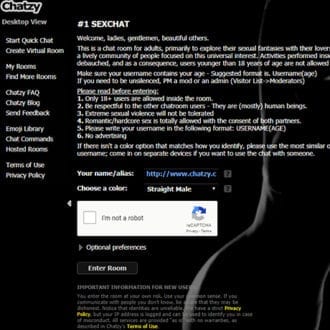 Chatzy.com is a chat site that's all about having a chat with complete strangers over the internet, however, these people are classified neatly according to their gender and sexual preference. So, if you're a straight guy and you want to talk to a straight girl in the chat, no problem! If you want to DM her and RP later, that's also a thing on Chatzy.com. Join now!
CooMeet.com is a website dedicated to finding people and connecting them through video chats with the cutest girls online. If you're interested in that, know that the site is clean and neat. Also, the option to register is free, so you'll probably love that too. And this is one of those sites that don't drag you on, but they find you a suitable partner immediately.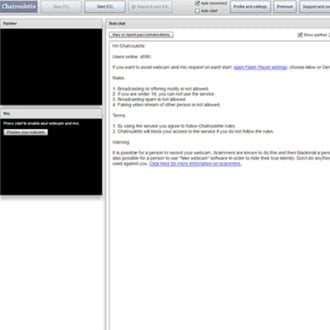 ChatRoulette.com is a site that you have probably heard of at some point or another in your life. Either way, the random webcam generator lets you live video chat with strangers from all over the world with just the click of a button. And if you play your cards right, you just might get to see some beautiful women rubbing the bean on cam for free! Read my review to learn more!
Chatropolis.com is a free/paid chat service that allows members to tackle an array of topics revolving around kinks and fetishes. The site has been around since 2014. It has close to 50 rooms to pick from, with each room covering a specific fetish. The site boasts simplicity when it comes to entering the chatrooms with only a screen name required to get started. Check it out today and enjoy it!