I'm looking for full body sex massages with happy ending from local and exotic Asian girls!
Toxic masculinity has made it impossible for most men to enjoy the pleasures of a massage: it's time to end that ill-conceived notion and take back the pleasure men get from a massage! Massages are meant to not only make your muscles and body feel amazing, but it also helps you to get to that upper plane of consciousness. What could be more masculine than that? Nothing. The answer to that is obviously nothing.
Imagine my surprise when I discovered that not only is it becoming more, 'hip,' for men to get massages, but there are also places on the Internet that show where men can get the best massage in their area. These are called 'erotic massages,' I suppose, because it makes men more comfortable to get a massage from a female. Massage, erotic massage, sex massage, whatever you want to call it, we should all be comfortable enough with our masculinity to get a massage whenever our muscles ache, and our minds need to be refreshed.
I know you have questions about masseuses and all kinds of happy things that happen in a massage, so I am here to take any questions you may have! Fire away, friend!
Full body? Well, look at this male feminist showing how open-minded he is! I am proud of you friend: not many men would want to jump into the game from the…oh you want a sex massage? A sex massage?! You mean you want to get totally naked so a female will relieve you…sexually? Is that what an erotic massage actually is!?
Oh, my God…
Friends, I just finished walking up the flight of stairs to ask mother what it means to get an erotic sex massage, and she could not stop laughing. The only time she laughs uncontrollably is when she's reminded that I will never get the sex and will remain a virgin forever, so 'tis true: an erotic sex massage involves a female relieving you of your sexual tension…
Did you say exotic Asian girls, though? Do Asians do that? Asian women? Asian women actually give…handjobs, you said? Let me double-check with my sources and…yes! Yes! YES, you can get an erotic massage from a lovely Asian lass – and you're going to be able to do it thanks to these sites! Huh, today, I learned! Just don't tell ThePornDude, I don't want to be embarrassed.
Which erotic massages can I choose from?
After consulting with my sources, I can tell you without a doubt that…it all depends. Most erotic massage parlors will provide you with at least a handjob: that's the equivalent of getting a back rub at these houses of eroticism. Did you know that is what a happy ending is called? It's called a happy ending because you feel happy after you orgasm, I suppose. Let me know if I'm wrong, friend.
Like all businesses, the services offered differ from location-to-location. The best erotic massage sites (which you will find in a moment) typically feature the services provided at the massage parlor. Some places offer blowjobs; other places may even lick your butthole. Look at the parlor in question and see if they list what they offer. Some parlors may also list their erotic sex massages in code words too, so keep that in mind. It's a way to keep all parties legally protected, so don't sweat it!
Some erotic massage providers also accept in-calls while others do out-calls/housecalls; some do a little bit of both. See what's closest to you based on your location and understand what the erotic massage parlors in your neck of the woods provide. Hopefully, they will give you the thrill of your life, friend! Kind of like how ThePornDude gives me a thrill every time I think about his alpha face…
What's the price of the (sexual) service in a massage parlor?
Although I am not a well-traveled male feminist (though I do travel around the universe using astral projection at night) I can tell you that the price of an erotic massage parlor is going to differ based on where you are living in the world. Even in the good ole' US of A, the price of a tug job is going to be different based on where you live. Getting your weenie stroked at an erotic massage parlor off the interstate between St. Louis and Kansas City is going to be much cheaper than if you were to get an erotic sex massage in downtown Manhattan.
The best Asian erotic massage parlors will list the rate of services along with the services they provide. If you want to plan ahead as much as possible, always opt for erotic sex massage providers that list services, rates, and other important bits of information. Be sure to bring enough to tip them: if you want to go back, you want them to want you back, right? That's goddamn disgusting Capitalism for you!
Is it possible to have sex with the masseuses and not just a handjob?
Harken back a moment when I used the term 'services,' friend. That is a plural word, meaning more than one. And although I stated you could find erotic massage providers that give handjobs and will let you eat out their hiney holes, erotic sex massagers offer more than just those few things! Consult with the list of services based on the providers in your area and see what they can do for you.
If you want to have sex with the masseuse and you do not see the service listed, simply go to the erotic massage parlor and ask. Inform the spot that you have the cash-on-hand and are willing to pay extra, and perhaps they can pull out a secret menu for high paying clients, or they can haggle with you and be accommodating. As always, tip graciously no matter what service you choose: it will make them want to please you even more next time. Oh God, I sound like such a Chad when I talk this way!
Is it 100 % legal to pay for this kind of (sexual) service?
It is perfectly legal to get a massage! You are going to an institution that provides massage and are technically paying for a massage. That in itself isn't going to get you thrown into the slammer. The problem arises when you begin advertising that you paid someone to make your penis ejaculate. In some places, this is legal; in others, it is certainly not. Know your neighborhood's local laws and regulations before even inquiring about paying for the services of an erotic sex massage. Be careful, choose massage parlors that appear trustworthy, make sure it's a real place by using Google, and you should be fine.
What are the best erotic massage sites in 2019?
The good news is that even though there are only a few trusted sites to learn which places in your area provide trustworthy erotic massages, these sites are the cream of the crop when it comes to finding the information you need. RubMaps is probably the most well-known and provides a huge array of Asian goddesses that you can probably find in even your own neck of the woods. If there is a trusted erotic massage parlor to be visited, you're most likely going to find it here.
AdultSearch is another site worth checking out, though they provide more than just places you can go for an erotic massage. The perfect place to visit if you want an erotic massage before you take that an escort out for a night on the town to show her how special females truly are, it's a site worth looking at to get a little more info about a place. Either one you choose, you cannot go wrong!
How do I become a professional masseuse?
Becoming a professional masseuse is as easy as claiming you are versed in erotic massages and posting your listing on one of the sites listed above. It truly is that easy. Now, if you want to become a true masseuse that only gives G-rated massages to the elderly, you probably need to get some training before you do that. If you only want to get paid to touch the weenie of men, though, the bar is quite lower. I wonder if there are licensed masseuses who tug on weenies in their spare time for fun? Just think of the power that's in their hands when they are touching a penis. It must be one of the most empowering feelings in the world…
PornGeek, it's the first time that a girl will touch my virgin dick! I hope they charge by the second!
Lucky you! The only person that has ever touched my penis was my Catholic priest in sixth grade!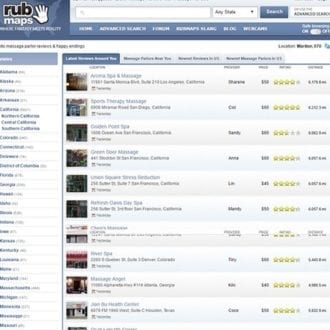 RubMaps.ch is the place to be if you love getting erotic massages. The site has listings of erotic massage parlors all over the States which are accompanied by detailed profiles and quality reviews. There are decent browsing features, and the interactive forum is teeming with tips and pointers. The membership fees might be a bit steep, but if you are hell-bent on getting that rub on your dick, it's worth it.