I want to spy on real women going naked and fucking on hidden cam in their house for free live!
Even though I am a leader and champion for female rights, I have to say that this male feminist has an addiction that would make most white knights blush. It is my promise to you all to always be transparent, and so I am admitting something that may make you all see me as less than a beacon of woken white light. I love watching females when they don't even realize I'm watching them.
I love doing the old school thing and climbing a tree, getting a pair of binoculars, and watching them when they're unaware I'm there. Next to the sweat of old people, it's one of the only things that makes my penis move to the right, and I have to say nothing gets me hot and sweaty quite like it. I've even snuck into people's homes just to watch them without their consent. It's not like I want to jump them from behind and slice their bodies into sawdust and use them as fertilizer in mother's garden or anything, I just think it's a fun game!
After getting trapped in a hoarder's living room and pretending to be a stuffed animal for eight hours, I started to wonder if it was really worth the risk any longer. Then I discovered there are these things called live voyeur cams where you can watch beauties as they live in their home – from the comfort of your home – without the risk of sitting in cat feces and getting caught by the fascist order also known as the police. Plus, what better place to send the sweet vibes we woken men send telepathically to females than their own home?
Anyways, now you can spy on women live! And unlike the man that used to live next door when I was a little PornGeek, you won't have to sneak into our house and install hidden cameras just to watch my closeted father get it on the regular from strange men in the basement. Nowadays, spying on real females is as simple as visiting a live voyeur cam site and watching them live their lives in the comfort of their own home. Now it isn't actual spying since they already know they are being watched, but the beauty of it all is that they have no idea you're watching them, and that's the allure.
Unfortunately, watching live voyeur cams for free isn't going to happen. There are cam sites that offer free viewings but in a limited capacity. If you want to spy on females and watch them in their own homes without any limitations, you're going to have to pay and become a member. Look, the only alternative is to scale a ladder and spy on them in the bedroom. However, because climate change is knocking down electric lines at a faster rate than ever, you may get electrocuted! It's not worth the risk friends! Like ThePornDude tells me in my dreams: safety first!
OMG, I can see them nude, have sex, shower, eat and sleep! Are there any limits to what I can see?
If you do it in your own home; chances are you are going to see it here. That means you're probably going to see ladies having diarrhea and urinating, which may or may not be a bad thing depending on your fetishes. Personally, that makes me want to vomit, but hey, you will never see this woken white knight kink-shaming anyone, so I won't say another word about it!
Showering, eating, fornicating, watching bad reality television, it's all there for you to watch and gawk at. There are no limits to what you will see – only restrictions that the female places on what you can see. Use this as a teaching moment if you have found yourself faltering from the cause, male feminist: when a female puts limits on us, we must respect them no matter what! If she only wants to eat waffles that are store brand versus the better options out there, who are we to criticize and tell her no?
How is this legal? Are these women aware that their private life is being broadcasted online 24/7?
That's the difference between spying on beautiful females in a tree and on a live voyeur cam site: the former has no idea they are being watched, the latter totally knows the world is watching them. The females on live voyeur cam sites are obligated to sign a variety of forms and waivers. This is to legally protect all parties in the event they get tired of Chads asking them to show their pussy and go postal on the entire apartment complex. I don't know if there is a risk of something like. If I had a total Chad whispering to me every five seconds that I need to help them orgasm, the idea of picking up a firearm of death may make me want to puke a little less than it already does.
Therefore, if these beauties know they are being watched and they agreed to it, then there is no legal consequence. Does Julie Chen-Moonves get arrested after she finishes hosting an episode of Big Brother? Her husband did rape everyone at CBS, so she's also a monster: bad analogy! My point is you have nothing to worry about. If you've never gone to prison for watching an episode of Big Brother where everyone debates the advantages of veganism for an hour, you're not going to jail over something that's actually good.
I want to watch the live streams 24/7, but I still need to sleep. Can I see replays of important events?
Before my father mysteriously disappeared because of his homosexuality; we would tell me stories about his voyeuristic days. Back in his day, he would have to carry a giant camera and disguise it as a giant inflatable clown, develop the film in secret in the basement, and wait until everyone went to bed just to watch the silent black-and-white grainy film that had developed over several days. He once burned his penis using the film chemicals, and he vowed never to use the camera again. Of course, I caught him years later using it with another man…that's another story, though.
Nowadays, spying on beautiful females is as simple as signing up for a popular live voyeur cam site and letting the website do all the hard work for you. While you could sit and stare at the screen the entire time as you uplift the goddesses, you could also wait and watch the live feed at your leisure. Most sites go a step further, though: in addition to recording everything that happens so you can watch at a later date, they also show you the best parts of the day. So if a beauty has intercourse with her boyfriend and you want to see it, you could theoretically do that.
What are the advantages of paying for a premium subscription on these voyeur websites?
Although you can visit most live voyeur sex sites and interact with them for free; it is in a minimal capacity. The best parts of these sites can only be experienced if you are a premium member. It's totally worth it if you want to be a voyeur without running into fascists that get their rocks off from throwing people into prison. Perks like 24/7 access no matter where you are in the world, high video resolution, so you can actually see the details of the living environment, and more. Each live voyeur site is different, and all have their own perks: look at a few of them and see which one fits you best!
What are the best live voyeur cam sites in 2019?
You don't have a ton of options to choose from, but as ThePornDude once told me in a fever dream, "the fewer choices we have, the more time we have to fondle our peckers." Or did my Catholic priest tell me that, and I'm just repressing those memories? I will figure it out later. For now, take a look at these voyeur cam sites. The best of the bunch are Voyeur House TV, Voyeur House, and Camarads: they are all remarkably similar and are each worth a visit. Your favorite is going to be based on preference, so play around with them and see which site stands out to you.
Various spy cams in apartments spying on the hottest girls! It's like Big Brother XXX uncensored!
It's what Big Brother should have been in the first place! Look, I am a woken male feminist just as much as the next guy, but nobody wants to watch gutter trash like Big Brother when all they do is lie in kiddy pools of tequila and sit on a couch talking about politics. Real people don't do that! They paint anime figures! They cook bacon and do homework, sit around and whine about their job, and enjoy extracurricular activities in the bedroom like a few rounds of Garden Spider under the covers! This is what real people look like, not the feces you will find on Big Brother!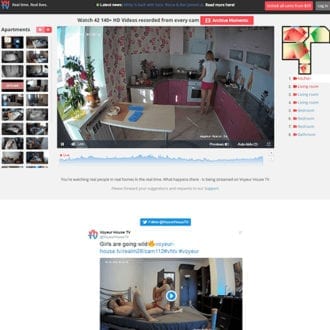 Voyeur-House.tv brings a refreshing twist to live cams and voyeurism. Watch as real couples live their lives in homes filled with cameras filming them 24/7 as they eat, sleep, shower, and have sex among other naughty stuff. The action comes to you in HD and features real amateurs as opposed to actors. You'll need a membership to see the rooms with nudity and sex, but it is 100% worth it. Be amazed by the incredible views.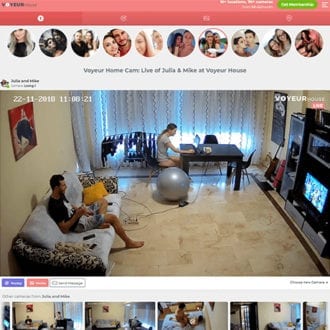 VoyeurHouse.com is your golden chance to become a voyeur. The site gives members a front-row seat into the lives of sexy European amateurs as they go about their daily lives. The cameras and audios are top-notch and will greatly enhance your voyeur experience. Also, members can enjoy 24-hour replays and cam archives with the hottest action. The site has a clean and simple to use interface with plenty of user features. There's some truly steamy voyeur sex to be had.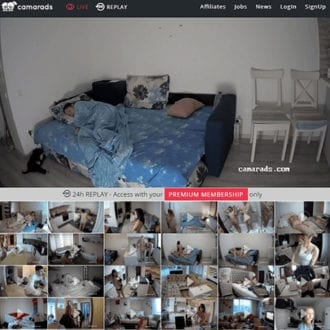 Camarads.com is the ultimate premium voyeur experience. The site is teeming with sexy participants willing to let you take a peep as they get nasty. There are plenty of cameras to check out with streams available in full HD. The site also offers the replay feature, and users can check out recorded pieces of action. With a clean and easy to navigate layout, high-quality cams, and prospects of hot, sexy, and hardcore amateur action, there are plenty of reasons to be excited.